Almond-Crusted Vino Cotto Apple Tart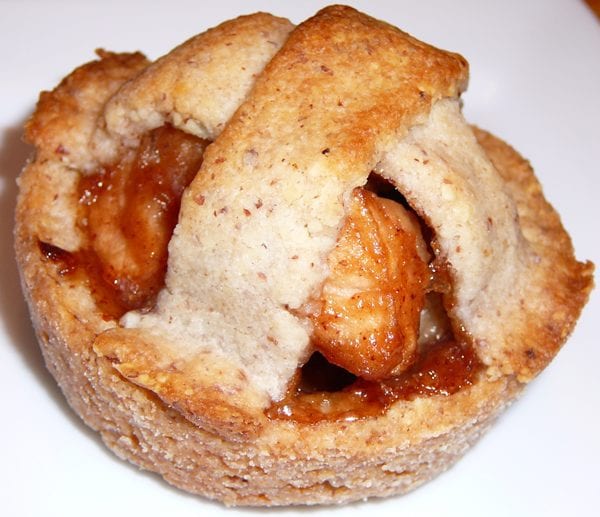 Almond-Crusted Vino Cotto Apple Tart
The almond crust and added vino cotto bring a new texture and flavor to apple tarts.
Recipe and photo by Deena Montillo
5 medium McIntosh apples
3 tablespoons lemon juice
2 cups almonds (sliced)
1 cup and 2 tablespoons all-purpose flour
1/4 cup sugar
1/2 cup Crisco® vegetable shortening
2-4 tablespoon warm water
1/4 cup sugar
1/4 teaspoon nutmeg
1 teaspoon cinnamon
2 tablespoons margarine
1/4 cup Vino Cotto di Montillo
1 teaspoon corn starch
Ice cream (optional)
Spray a cupcake tin with 12 wells that are each approximately 2-1/2 inches round by 1-1/4 inch deep with non-stick spray. Add a little flour to each well and move the pan so as to coat the sides and bottom evenly with flour. Shake off excess flour.
Peel apples then remove the core and seeds. Dice apples to 1/2-inch pieces. Splash with lemon juice to reduce browning.
Preheat oven to 400°F (204°C).
Using a food processor, chop almonds for 2-3 minutes to create an almond flour.
In a large bowl, add almond flour, 1 cup all-purpose flour and sugar then whisk together.
Add vegetable shortening to the almond mixture. Using a fork, press into it to create a moist, granular mixture.
Add two tablespoons of warm water and mix together. Add one more tablespoon of water and mix. Repeat this step until a dough ball is formed.
Add flour to a clean, flat surface. Roll out the dough ball to 1/8-inch thickness.
With a glass whose rim is approximately 1/4-inch wider all the way around the cupcake well opening, cut out 12 circles of dough.
If necessary use a spatula to lift each dough circle. Place a dough circle over the first cupcake well opening. Gently push the dough down into the well and press the dough up the sides, removing air pockets. Repeat this step 11 times. Form a ball with all remaining dough. Set aside.
With a fork, poke the bottom and around the sides of each dough-lined cupcake well.
Place the cupcake tin in the oven and bake for 8-10 minutes or until the crust is golden brown. When done, set aside.
In a small bowl, combine sugar, 2 tablespoons all-purpose flour, nutmeg and cinnamon. Whisk together.
In a glass, combine vino cotto and corn starch. Whisk to dissolve the corn starch.
Drain the lemon juice from the apples.
In a large skillet, melt butter over low-medium heat. Add the apples, cinnamon mixture and vino cotto mixture. Toss together to evenly coat all apples. Cover and let simmer for 2 minutes. Remove cover and toss. Test apples for doneness with a pointy fork. Repeat these steps until the apples are tender but not overcooked.
Add small spoonfuls of prepared apple filling into each baked tart crust. Position apples to close gaps.
Roll the remaining dough ball to 1/8-inch thickness. Using a pizza or pasta cutter, cut dough into 1/2-inch wide strips that are long enough to make a crisscross pattern over the tops of each apple filled tart crust.
Use a spatula to lift each dough strip. Place the first strip over the first apple filled tart crust then place the second strip across the first one to form a crisscross pattern. Firmly press the dough ends onto the sides of the apple filled baked tart crust. Repeat.
Bake for 8-10 minutes or until the top crust is golden brown. Remove from the oven and let rest for 15-20 minutes.
Remove each apple tart from the cupcake tin.
To garnish, place an apple tart onto a serving dish and top with ice cream, vino cotto or both. Serves 12.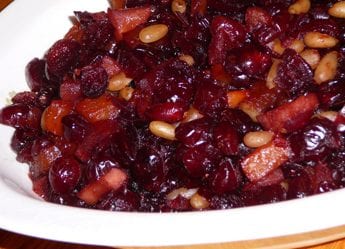 A yummy alternative to jellied or whole berry cranberry sauce! Serve cold beside turkey, chicken, pork or lamb.
Recipe and photo by Deena Montillo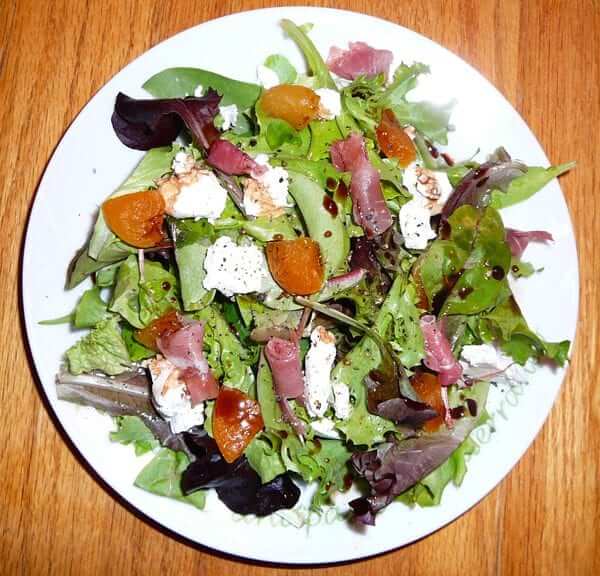 This delicious salad is easy to prepare and makes a great presentation when served at a dinner party...you'd almost think it was a dessert!
Recipe and photo by Deena Montillo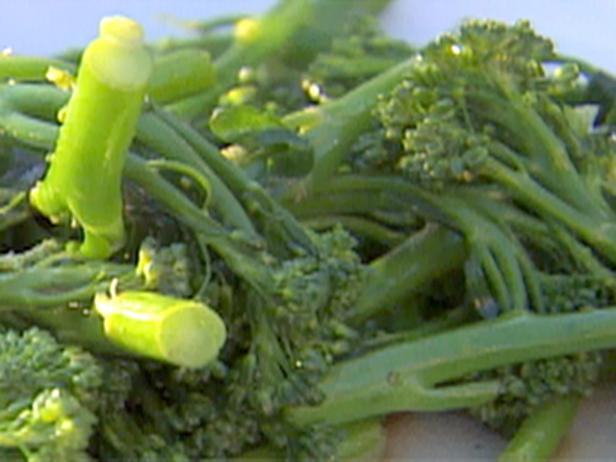 Recipe courtesy of Ina Garten, Barefoot Contessa
Episode: Jeffrey's Surprise Party

Embrace The Multitude Of Benefits That Vino Cotto Brings To Your Culinary Repertoire. Let Its Exquisite Flavor, Versatility, And Health-Conscious Qualities Inspire Your Creativity In The Kitchen. Elevate Your Dishes To New Heights With This Exceptional Gourmet Syrup.